NOW! platform for the world largest EV network
NOW! Innovations has signed an agreement with Fastned to provide the electric vehicle charging service management platform for the world's largest fast-charging network in the Netherlands. NOW! Platform provides mobile payments and self-service portal for the EV drivers and multiple tools for Fastned to manage the charging service. As one of the most advanced EV charging service platforms, it includes asset management, flexible pricing logic, customer management and powerful reporting tools.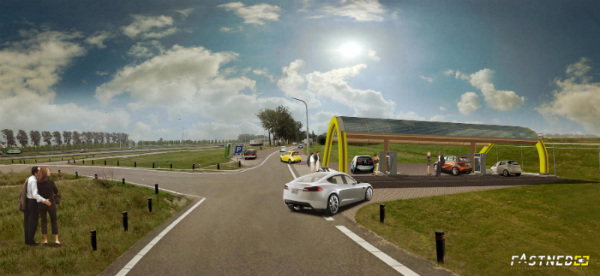 Üllar Jaaksoo, NOW! Innovations CEO:
"We are excited to have an opportunity to improve daily lives of all motorist and encourage use of electric vehicles. We strive to make the payment process easy and provide personalized services.


We are glad to be able to be a part of the green initiative and are looking forward to providing solution for antoher fast-charging network. Together with Fastned we are creating a real opportunity for people to use EVs as comfortably as a traditional vehicle. We are thrilled to work with such visionary company as Fastned"

Michiel Langezaal, Fastned CEO:
"Fastned is very happy having NOW! Innovations as a partner to provide a 21st century back-office solution. NOW! shows a wealth of experience from the Estonia project and their background in parking systems, combined with the typical Estonian execution power, they are a pleasure to work with. The electric vehicle charging market has been challenged enough with closed system approaches, like RFID cards with an obligatory monthly fee. NOW! Innovations has the perfect solution for a more consumer friendly approach. A subscriber management solution and payment system with many options without ties to technical legacies. Fastned and NOW! Innovations aim at providing Fastned's customers with a seamless payment method via their smart phone. NO cards, NO roaming issues and NO obligatory fees."

NOW! Innovations
NOW! Innovations is a global SaaS provider of mobile payment and billing solutions operating on 3 continents and in 8 countries. The Company has developed a flexible and easy-to-use billing and payment platform for parking and other mobility services. NOW! Innovations is also the world
pioneer for mobile payment solutions for Electric Vehicle charging that launched as part of the consortium lead by ABB the first country-wide EV fast charging network in Estonia in the beginning of the year.

NOW! Innovations SaaS platform:
NOW! Platform, based on SaaS concept, enables cities and parking and EV-charging operators to not only add mobile phone payments to their existing system either independently or as an integrated approach but also to implement Intelligent Parking System (IPS). IPS enables parking and EV charging asset management and allows increasing revenues and efficiency, decreasing costs and becoming eco-friendly.




NOW! Platform offers the widest selection of command channels: SMS, QR codes, IVR, NFC, RFID, LPR/ANPR. The functionality includes a dynamic billing mechanisms and multiple payment sources:
credit/debit cards,

pre-paid cards,

customer accounts,

direct debit order,

PayPal, etc.



NOW! Platform manages unlimited number of payment rate policies, assets, and customer classes. The Platform has the most functionality and the lowest cost on the market.
Fastned
Fastned provides people who drive electric cars with freedom! The company is building a nationwide network of two hundred fast-charging stations directly on the highways. This makes 'Fastned'-ting as easy as pumping gas. Fastned is a Dutch start-up founded in 2011 by Bart Lubbers and Michiel Langezaal to realize a nationwide charging infrastructure. The business rationale is based on the concept that the first market entrant will be able to pick the best locations for charging stations in a country, justifying an early stage investment.
The initiative started in the spring of 2011 by a request of Fastned to the Ministry of Infrastructure (''Rijkswaterstaat'') to allow for the deployment of charging stations along the Dutch highways. December 2011 the Dutch Government published the announcement of a public concession application procedure to facilitate the deployment of charging facilities at the available 245 service station locations along the Dutch higways. Fastned was the major applicant in the process and Rijkswaterstaat awarded Fastned with concessions for 201 locations.

For more information, please contact:


Mr Üllar Jaaksoo, CEO
Mob: +372 550 5245
Ms Olga Gutenko, Marketing Director

+372 557 6661